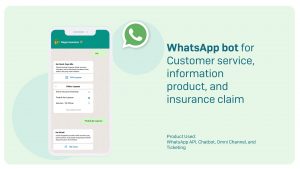 Company Profile
PT. General Insurance Mega (Mega Insurance)is an insurance service provider that strives to serve consumers with the best services. Mega Insurance focuses on direct service to consumers or through other linked parties in order to become a reputable insurance company by providing rapid and convenient services. As a result, Mega Insurance has taken an effort to improve its services by implementing AI Chatbots, Whatsapp APIs, and Ticketing.
Issue
Customers find it difficult to make insurance claims.

Mega Insurance is having some difficulty processing customer claims.

Customers have limited access to information about mega insurance.

Because it is done offline, the claim process is too long.
Business Need
With AI Chatbot, you can make it easier for clients to file claims.

Ticketing simplifies the processing of consumer claims for Mega Insurance companies.

With the Whatsapp API, Mega Insurance can provide information about products to current and prospective customers.

Improve the consumer claims process to make it more efficient.

Business Impact
Customers can submit claims 24/7.

The claim process for customers becomes more organized and efficient.

Clients can get more information about Mega Insurance, so Mega Insurance is closer to its customers.

Submission of a claim is easier and faster because it can be done online.
May 12, 2021
By: Lenna
Categories: Usecase
no comments