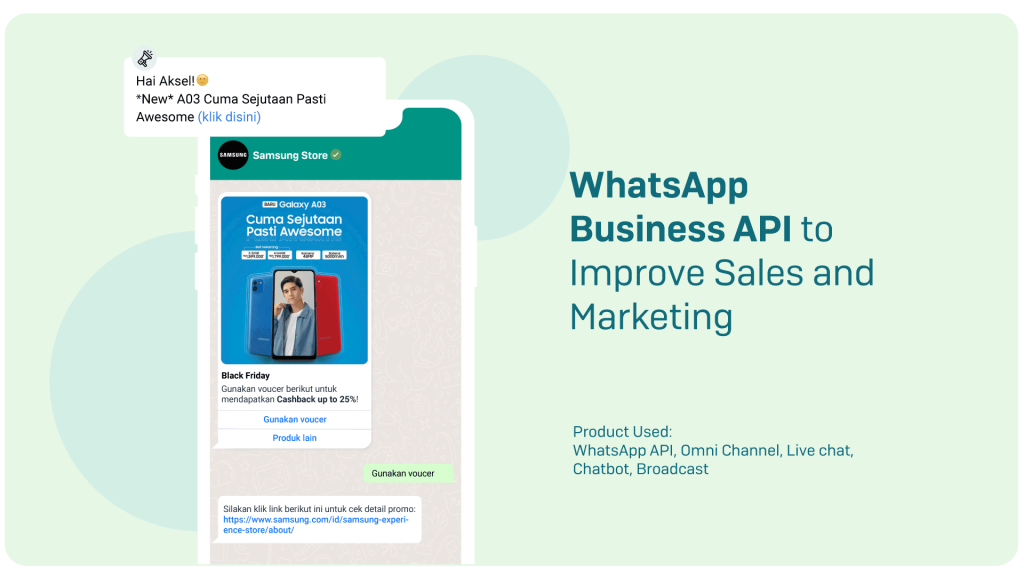 Company Profile
Samsung is a multinational electronics company recognized internationally as a technology pioneer and one of the top ten global brands. As a result, Samsung is constantly innovating and providing the best service to its customers. however, due to a lack of a communication approach with customers, Samsung took the initiative to use the WhatsApp API, AI Chatbot, and Lenna Broadcast to reach more customers and speed up services
Issue
Samsung Experience Store offline sales are down.
There is a difference between the availability of goods in the store and the desires of the customers.

Customers find it difficult to communicate with Samsung's official customer service.

Customer dissatisfaction with Samsung
Business Needs
Make it simple for customers to buy Samsung products offline with Whatsapp Broadcast

Customers can check the availability of goods in stores before going there by Whatsapp API

Customers should be able to contact official Samsung customer service more easily via Whatsapp

Increase customer loyalty and trust by responding quickly and providing an amazing customer experience with AI Chatbot on Whatsapp

Business Impact
Samsung's offline sales have increased as a result of consistent marketing via Whatsapp broadcasts.

It is simpler for Samsung to provide customers with the most up-to-date information or offers.

Customers of Samsung find it easier to locate the nearest store and obtain information on available stock.

Customers can contact Samsung's official customer service via Whatsapp, allowing Samsung to be more accessible to its customers.

Appropriate marketing and quick responses increase Samsung customers' loyalty and trust in their products, which leads to increased sales and profits.
May 12, 2021
By: Lenna
Categories: Usecase
no comments