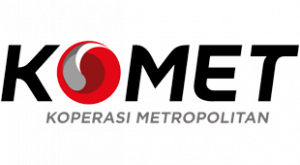 Company Profile
Koperasi Metropolitan (KOMET) is a Telkom Employee Cooperative that aspires to promote the welfare of its members, develop Cooperative cadres with a strong dedication to the Cooperative movement, and generate and foster entrepreneurial employees. Due to limited communication access, KOMET decided to employ a smartphone app with a virtual assistant to aid its members. Not only that, but KOMET also analyzes what its members require using Omni Channel and AI Chatbot.
Issue
Due to a lack of interaction with members, KOMET is unable to determine what its members require.

Prospective members find it difficult to register as a member since it must be done offline, members' communication access is limited, and there are numerous questions about KOMET that are asked repeatedly.
The difficulty of making deposits/loans on KOMET, the lack of information obtained, and the lack of tools for KOMET activities such as the selection of KOMET members

The general public and prospective members are not well-informed about KOMET.
Business Need
Omni Channel Lenna,

to optimize discussions, the KOMET chat channel of the chatbot mobile app was integrated into one platform. Count how many talks the bot has handled and analyzed what the co-op members require. In order for KOMET to continue to develop in the production of its products.

AI Chatbot, improve the response of chats so that loan applications, savings estimates, and other information can be easily accessible without having to visit the cooperative office. Access is available 24/7 and is not limited to business hours.

Mobile App & Virtual Assitant, mobile phones have become a need for everyone; they are small and portable. As a result, Lenna AI created a mobile app for KOMET in order to give the best possible service to its members. Mobile apps are also easier to customize and design. This app also includes clever virtual assistants named Kaila and Komanders, who have speech abilities and make it easier for cooperative members to obtain product information, make saves and loans, and access deposit information.

On their smartphone, all members can download this app from the play store or app store. Kaila has a voting feature that can be used to quickly, personally, and securely elect the chairman of cooperatives and other organizational structures.

Make it simple for others, especially prospective cooperative members, to learn about KOMET and its products.

Business Impact
KOMET can more effectively analyze what its members require, resulting in new KOMET product improvements.

The growing number of KOMET members as a result of the convenience of registration

The information obtained is more straightforward and transparent, boosting member trust in KOMET.

Members can make a deposit/loan money at any time and from any location.

KOMET can increase more prospective members with webchat.
May 12, 2021
By: Lenna
Categories: Usecase
no comments