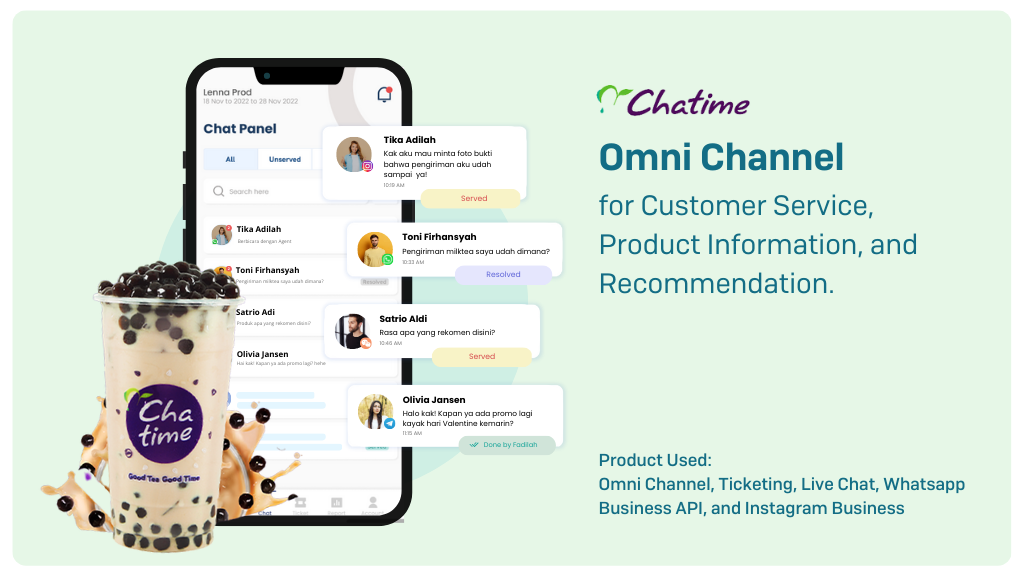 Company Profile
Chatime is a provider of brewed tea beverages from Taiwan that offers more than 50 different flavors. In Indonesia, Chatime is part of F&B Indonesia, a parent company that has been overseeing the entire food and beverage portfolio of the Kawan Lama Group since 2011. The numerous Chatime outlets spread throughout Indonesia have attracted thousands of loyal customers. This has prompted Chatime to take the initiative to use Omni Channel and Ticketing to simplify and speed up services for its loyal customers.
Issue
Customers have to look for the social media platforms that the beverage brand has.
Many customers have the same concern and repeatedly ask the same question.
Business Need
Customers do not have to contact Chatime through just one communication channel.
This makes it easier for customers to obtain information about the best products without having to search for it on the internet or visit an outlet first.
Business Impact
After implementing the Lenna AI solution, customers can obtain information about Chatime's products.
Customers can ask about the best flavor variants from Chatime. This can make it easier for customers so they don't have to search for information from potentially unreliable sources.
It also helps customers avoid confusion when ordering Chatime's beverages online.
Because most customers use different communication channels, they don't have to focus on one channel because Chatime can connect with all communication channels.